About Us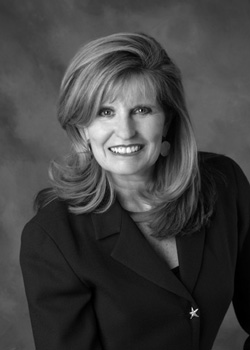 Nancy Chisholm is a highly experienced Speaker, Business Consultant and Sales Coach with a track record of teaching communication and negotiation skills that produce "top results" for her clients. Companies and individuals hire her to help them sell products, services and themselves more effectively.
She is committed and passionate about teaching her clients skills they can utilize for the rest of their life.
She works with junior to senior level professionals, identifying their strengths, uncovering their blocks, creating and implementing strategies that take their business, sales and revenue to the next level of success.
Nancy has coached and worked with a range of corporations: small to mid-size businesses, Fortune 500 companies, independent businesses, and entrepreneurships. She specializes in helping businesses and individuals successfully navigate company changes. Some of these include reorganizing business during and after a merger, creating new divisions, generating business growth and talent management.
She has consulted, created, implemented and facilitated Sales and Business strategies, seminars and one-on-one coaching within the manufacturing, financial, high tech, insurance, health, education, legal, pharmaceutical, hospitality and real estate industries.
What differentiates Nancy from other coaches is her background in Sales. She was the first person hired in the new computer hardware division of a company that grew from 45 people to 700 within nine years. She worked in a highly competitive high tech electronic trading floor for 11 years at Converge (formerly NECX). She was one of only six women out of 100 men rising in rank from Sales Associate to Product Analyst to Manager and finally to Senior Sales Trader.
She started her business career as a realtor for Carlson Real Estate when the interest rates were 13%. She received Sales Performance Awards every year of her five years in the business.
Nancy is the proud mother of two adult daughters and two grandchildren. She loves to travel and is very adventurous having traveled around the world. It's not unusual to hear her talk about having gone on an elephant ride, scuba diving, hot air ballooning and other adventures. She is passionate about the environment, alternative energy and how to make the world a better place to live.
Some of the Companies we've worked with are:
Raytheon, Wells Fargo, 3Com, Boston Scientific, Fidelity, Hewlett Packard, New England Financial, Krohne, Asian American Bank, Rockport National Bank, Knape & Vogt Manufacturing, Lesley University, Bunker Hill Community College, North Shore Community College, Coldwell Banker, RE/MAX and Massachusetts Association of Realtors, Aapex International, SGI.
Credentials:
Trained and authorized Inscape Publishing distributor and facilitator of assessment tools such as: DiSC, DiSC Sales Action Planner, DiSC Management Action Planner, Team Dimension, Time Mastery, Listening.
Currently lectures at the Boston Center for Adult Education.
Coach University Graduate – a two and a half year program.
Attended Harvard Medical School – Coaching Theory, Emerging Evidence Practice Workshop.
Former Board Member, International Coach Federation New England Chapter.
Trained Karass "Effective Negotiating"
Steven Covey's Seven Habits.
Former Sales Manager & Coach.
Facilitator for North Shore & Bunker Hill Community College Workforce Development.
Former Sales Manager.
Made 80-100 bound/cold calls per day with NECX helping the new department evolve from infancy selling to individuals, Colleges & Universities, Value Added Resellers, Fortune 500 and large Distributors such as Merisel, Inacom, PC Connection.
Generated monthly – an average $800,000. – $1 million in sales, netting the company $80,000. to $100,000. in gross profit.
Developed long-term relationships with CEO's, CFO's, and Purchasing and Senior level Managers in Compaq, Hewlett Packard, Blue Cross, Blue Shield, Unum, Fortune 500, Computer Resellers and Distributors.